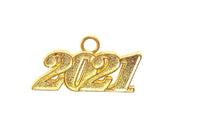 Free movable Year charm.

Easy to adjust and free fix to each Graduation Tassel.

The charms are decorated with raised diagonal lines inside the numbers and have a link on top for easy attachment.

We provide annual year signet for each year 2018-2022,Feel free to contact us to purchase.

Size:3.5 x 1.5 x 0.1 inches.