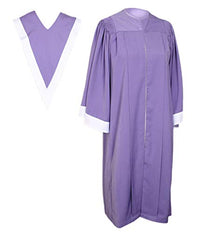 Classic choir robe is made of high quality matte woven material
A package comes with a V shape choir stole 
Choir gown designed fluted on back and shoulder
White edge on sleeve and choir v stole
Gradplaza design,produce and sell all kinds of high quality choir robes for church events. We have our own facility no matter for customized clergy choir robe and stole or large quantity order needs. We have rich colors and strong capacity production to meet any request. Should you have any inquiries, feel free to email us via: sales@gradplaza.com and we will reply you within 24 hours.