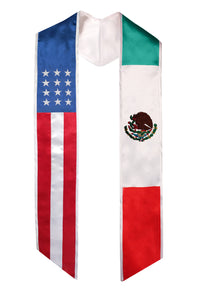 Made out of high silky shiny satin and top quality professionally embroidered
Flag stole V neck Designed in the back to make sure the stole is in place
Sized 5 inches wide and 72 inches long which fits all graduates
Fully lined throughout & fronted ends with slant
Gradplaza design,produce and sell all kinds of high quality graduation stoles from pre-school to university. We have our own facility no matter for customized graduation stole or large quantity order needs. We have rich colors for to match your color and strong capacity production to meet any request. Should you have any inquiries, feel free to email us via: sales@gradplaza.com and we will reply you within 24 hours.