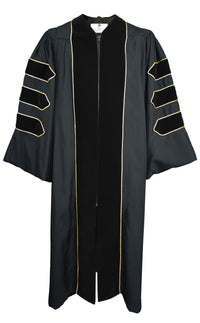 High Quality Academic Apparel Matte Polyester Doctoral Gown With Durable and Heavy-duty Material Matte.

The Doctoral Gown Features full length wide velvet pleats, gold piping and full fluting on the back & shoulder and bell sleeve with cuffs.

Doctoral Graduation Gown Padded Yoke Keeps Shape of Doctoral Gown for Faculty;Full Fluting Around Shoulders & Back;Durable Easy Slide Zipper.

With Durable easy slide zipper and braided rope & fabric covered button on the back

Multi Colors Choice for Doctoral Gown, 20 Sizes for Doctoral Gown Education.