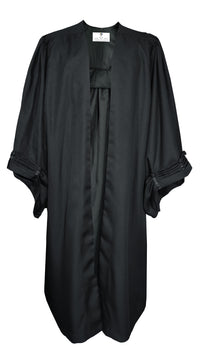 Material:Made From wrinkles-less polyester.Hand wash only.

Design:This is an open-style barrister gown,traditional fully fluted back with a stiffened yoke,gathered sleeves lined with Satin Ribbons & Buttons,traditional Liripipe Included in the design.

Package:You will get 1 perfect barrister gown,it's traditionally worn over a shirt and tie (or bibs), which are not included with the gown.

Occasion:Our gown is perfect for use in all courts worldwide and a must-have for your legal wardrobe.

Custom:If you would prefer your gown made-to-measure,please contact us and let us know your request.